We need to talk climate
No story matters more to the world than the climate change crisis. Investors from all walks of life want real action.
Published 17 Mar 2022 | 5 min read


Support for climate action is strong
The effects of climate change have been increasingly visible across Australia during the last three years, with a spate of floods and devastating fires prompting many Australians to reflect and seek out solutions that lead to positive change.
The majority of Australians support climate action. The Lowy Institute's Climate Poll 2021 revealed1 eight in ten Australians (78%) support setting a net-zero emissions target for 2050' and 70% say Australia should join other countries to increase its commitments to address climate change. However, Australia ranks last on climate action amongst UN developed countries.2
Against this backdrop, Australians have been seeking ways to positively contribute to the transition, including with their banking, super and investments. The demand for responsible investment is strong and growing fast. Recent data revealed 1 in 3 investors already invest with some consideration of ESG3, and another 45% plan to in the next 12 months. That's almost 8 in 10 investors already investing or planning to invest in ESG. This desire for savings and investments to have a positive impact, combined with a willingness to act look set to shape the future of investing in Australia.
With this in mind, advisers have a unique and timely opportunity to help clients connect values, action and impact by leading the climate conversation.

Lead the conversation
Leading researcher, social commentator and author of "How To Talk About Climate Change in A Way That Makes a Difference, Dr. Rebecca Huntley believes conversations are a powerful way to shift general concern about climate change into effective and meaningful action.
While the majority of Australians are keen to invest in a way that helps the future of society and the planet, each may have different ethical "hot buttons", priorities, and world views.
To help navigate this, Dr Huntley outlines some basic principles to empower advisers to communicate with confidence about climate to clients. For example, Dr Huntley emphasizes that people need to feel hope, not despair when it comes to climate change. She notes the importance of focusing on the vision of a better future, rather than the devastating impact of climate change to build confidence that it is possible to make a difference. Dr Huntley also outlines practical ways to tailor conversations to clients with different attitudes towards climate change in order to better under their perspective and communicate effectively.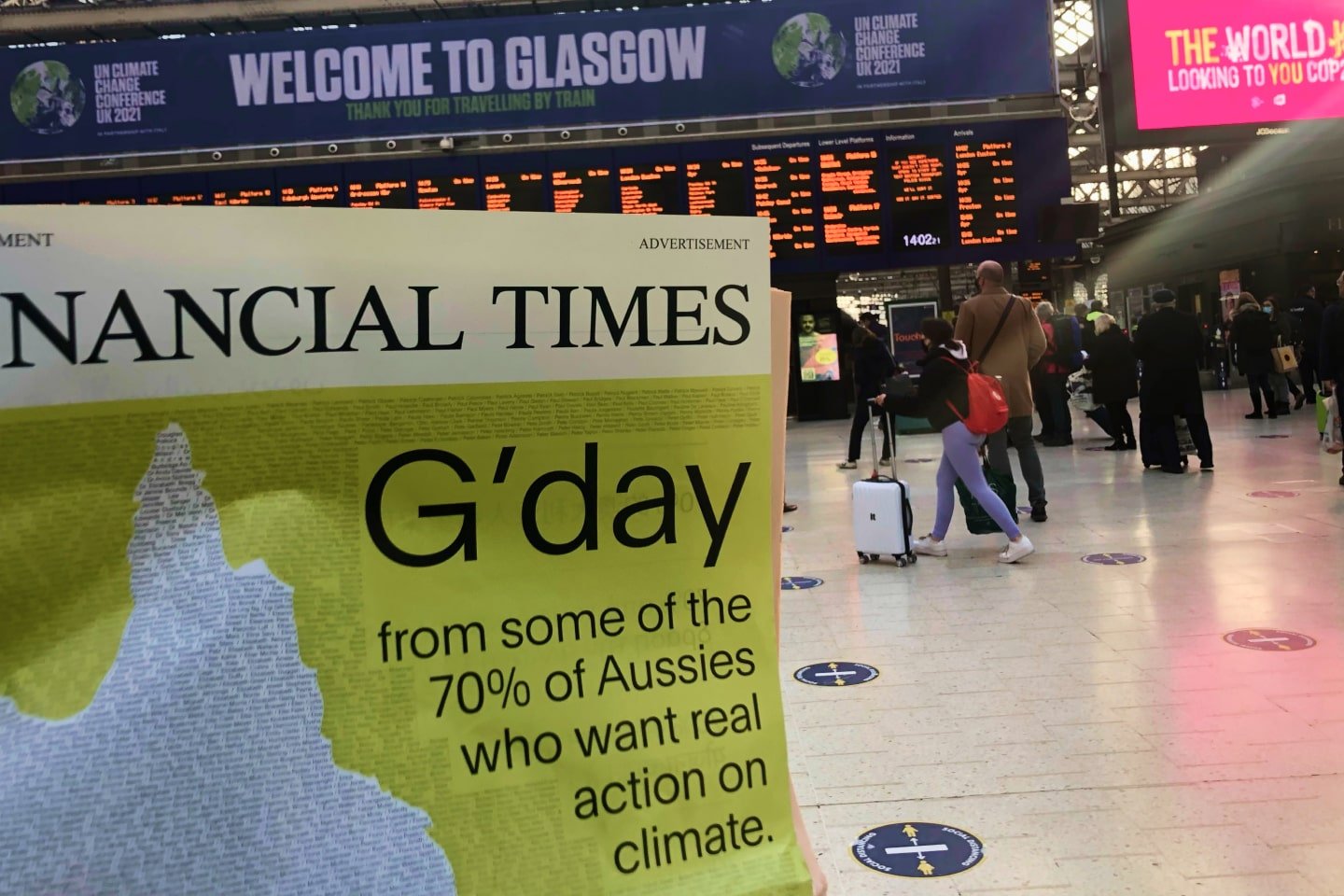 We brought over 7,000 Aussies with us over to Glasgow on special copies of the Financial Times during COP26.



Time to talk
The transition to net-zero requires huge shifts of capital, which brings with it a number of risks and opportunities as companies and industries transform over the coming decades. Advisers play a vital role in helping clients navigate this fast-changing landscape.
The International Energy Agency estimates that annual clean energy investment worldwide will need to more than triple by 2030 to around $USD4 trillion per annum, labeling it "an unparalleled clean energy investment boom".4
While a wave of capital of this magnitude brings opportunities, it will also bring heightened risks of greenwashing, mispricing of risks, unsustainable business models and possible valuation bubbles. Winners and losers in the transition to net zero will come from a wide variety of sectors.
Advisers are in a unique position to help their clients navigate these issues and help clients to understand the implications of a heating world on investment portfolios. By providing leadership through conversations on these topics, advisers can not only help clients to achieve financial goals but also contribute to a better future for the planet.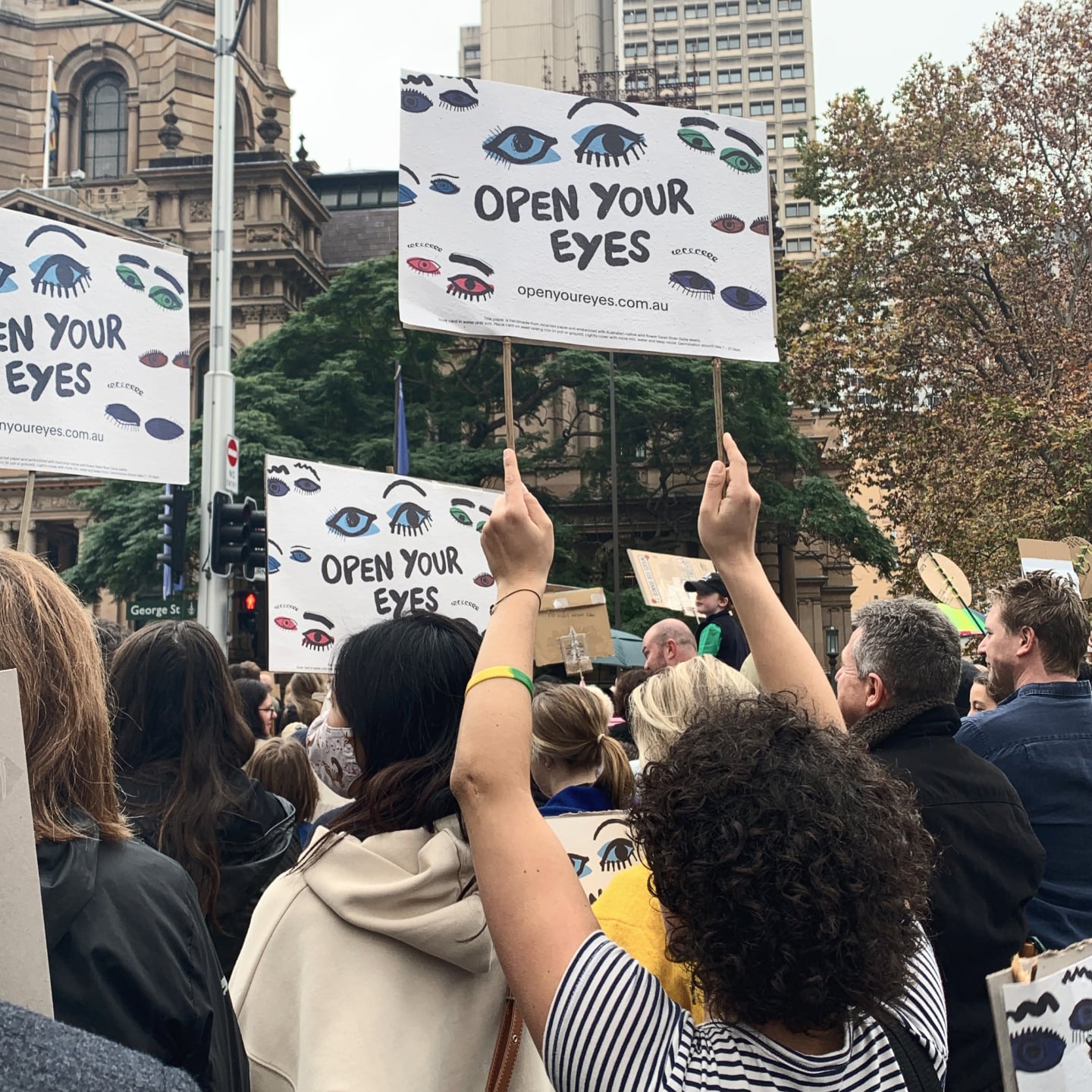 Australian Ethical employees at the May 2021 Climate Rally in Sydney.



The climate kit
To help advisers lead the climate conversation, we have developed this useful guide. It's packed full of helpful information, and tips from Dr Rebecca Huntley- social researcher, commentator and author on how you can have positive climate conversations with your clients.

1. Lowy Institute Climate Poll – 2021
2. Sustainable Development Report 2021
3. Investment Trends ESG Report – 2021
4. IEA Net Zero by 2050 Flagship report – May 2021



---
If you would like to know more about our range of funds, or even how to get started with responsible investing, please get in touch with a member of our Business Development Manager team.
Stay in the know
Subscribe to our adviser newsletter to receive the latest news on ethical investing, fund insights, event and webinar invites and more.