One of the benefits of ethical investing is that it recognises most peoples' values are not secondary to their financial goals. While they're going to make a lot of decisions which are driven by financial considerations, there are other things that are important to them too – whether it's family, local community or the environment. Ethical investing recognises that when you embed these ideas into an investment process it can be very powerful.
The Australian Ethical Charter has 23 principles that have governed our investment process since Australian Ethical was established over 30 years ago. The Charter provides the rationale for our approach to positive and negative screening of different companies and sectors.
In addition to investment screening, one of the ways ethical investors can use their influence is by advocating for change. This is often called 'investor advocacy' or 'investor engagement'. This could be achieved by talking to companies, the public or governments. It could be trying to get companies to do a better job of managing their impacts, or it could be with government to get them to do a better job of introducing policy which is going to drive positive change across the economy and society. One good example in Australia is climate policy.
UK economist Kate Raworth has developed a really useful concept in her book Doughnut Economics. Her idea is captured in the image below. It's a good way to think about the holistic way we approach investing at Australian Ethical. It's not about picking out one or two negative screens and a small number of positive screens, which is an approach adopted by more narrowly focused funds. We think a holistic approach is important. If we are going to build a better future we need to think about two elements: the environmental constraints on the outside of the 'doughnut' and the social foundations in the middle.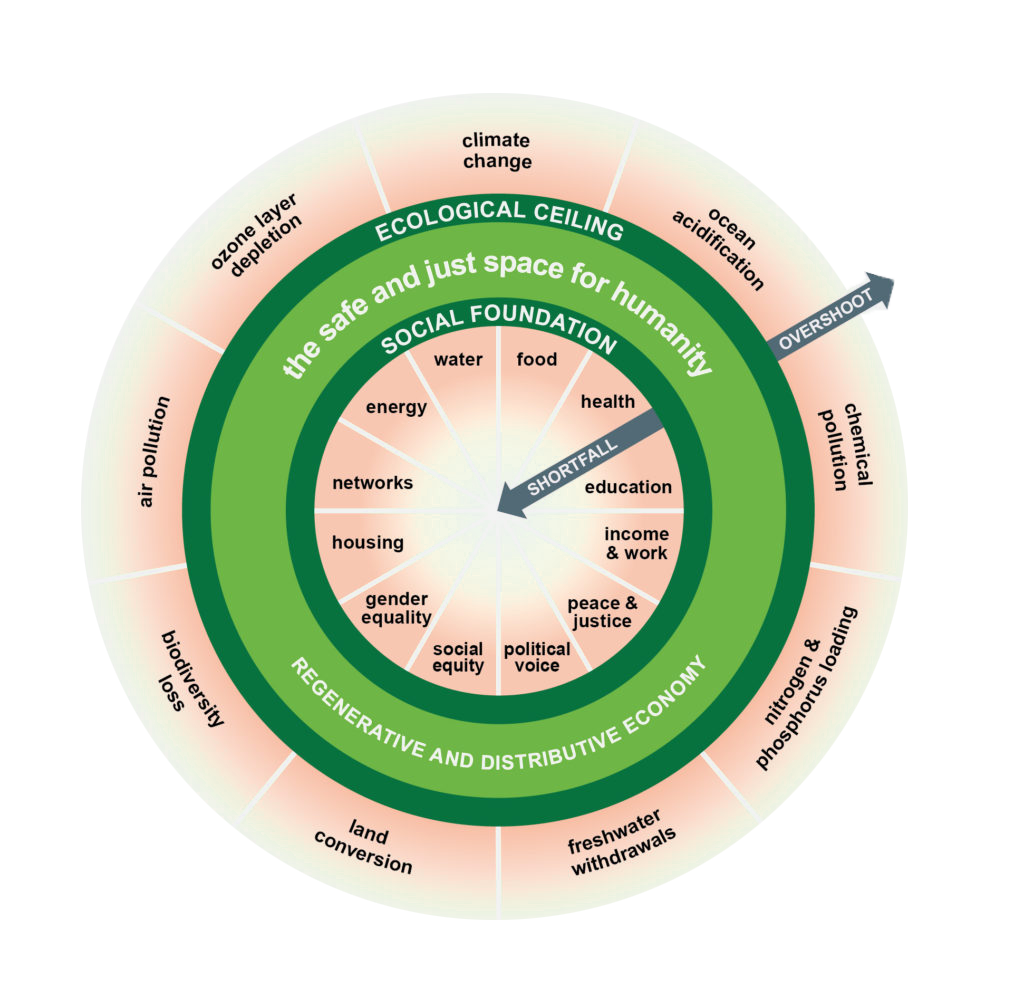 The outside of the doughnut includes things like land-use change, climate change and freshwater use. These are the environmental constraints or the 'ecological ceiling' that we're bumping up against as we consume more and as the population grows. We need to make sure that we're investing in a way which doesn't break through that ceiling and results, for example, in runaway climate change.
In the middle are the social foundations. This is the people element of ethical investing: how we ensure that peoples' basic needs are being met when it comes to food, health, water, and so on. How do our investments contribute to equality of opportunity and strong education options to provide those opportunities? We think it's important to think about these things when making investment choices from a values perspective.

A loud and credible voice
Investors have a really powerful voice – both with companies and with government – because they're not special interest groups. Superannuation funds invest right across the economy and they are long-term investors. If there's a particular sector which basically is going to disrupt and cause volatility in investment markets and society in the longer term, then that's going to be an area that we want to stay away from – irrespective of whether there might be short-term revenue opportunities in that sector.
Sometimes investor influence is best exercised privately, but there will also be times when a loud, critical public voice is more powerful. Sadly, most institutional investors are reluctant to speak publicly about irresponsible business or unsustainable public policy. Super funds must find their voice. It is important that companies and governments hear them, because they control trillions of investable dollars. But voters also need to hear them because super funds can bring a credible and distinctive perspective to public debate: that of an investor with long term interests and obligations across society and the economy. This offers a powerful counterpoint to the voices of companies and civil society groups which are often narrowly focused.
Too often investors play a passive role, reacting to the world as it is. This isn't good enough. Investors have the power to shape the future, and superannuation funds in particular have a responsibility to help create social, environmental and economic conditions which benefit current and future generations of people, animals and the planet. There are three main tools super funds have at their disposal:
Shifting capital: Super funds can shift capital to where it's needed by directing their investment towards positive businesses and away from businesses causing unnecessary harm. For example: They have a crucial role to play in funding the transition to a clean and low warming world by divesting from fossil fuels and investing in renewables, energy storage and energy efficient technologies.
Shifting companies: Super funds appoint directors and vote on executive remuneration. They can exercise enormous positive influence over boards and management to cause companies to better manage their social and environmental impacts.
Shifting government: Super funds sit close to the levers of power. They can influence government to develop and implement policy in the long-term interests of society and the economy.
The super industry needs to stop debating the relative merits of these different tools and use them all much more vigorously. They are all powerful mechanisms for change, and they often reinforce each other. A company is much more likely to respond to investor pressure to stop harming people or the environment if they see shareholders divesting and looming government regulation. For all the power of enlightened self-interest, super funds must also act as agents of change because it's the right thing to do.
This is an edited transcript of a talk by Australian Ethical's Head of Ethics Research Stuart Palmer.