Understanding short-term performance
Market ups and downs are a normal part of investing and something our investment team is prepared for.
Published 26 Jul 2022 | 11 min read

For Australian Ethical members, this is only the third time where our Balanced option has experienced an annual negative return over the past 22 years. And while our long-term performance remains strong (as shown in the chart below), we understand that this can be unsettling, especially after last year when our Balanced option returned 17.5%.
But it's important to remember that super is a long-term investment. And while drops in performance can be uncomfortable, ups and downs are a normal part of investing and something our investment team is prepared for.

Why is short-term performance down?
After last financial year's strong super fund returns, there may have been an expectation that this year's returns would be similar.
Financial markets did indeed benefit from the economic recovery following Covid-19 for the first six months of the financial year, but they have since struggled as they have been hit by a perfect storm of rising inflation, interest rate hikes and continuing concerns about global growth.
In other words, demand from consumers, supply chain blockages and the war in Ukraine have all contributed to price rises – or inflation. In response, central banks have increased interest rates which aims to slow spending and borrowing, therefore reducing demand and lowering inflation. Because of this, global investors became more cautious about the impact of interest rate increases on consumer spending and business profitability. As well, the higher interest rates (and higher uncertainty) meant the value of future earnings is worth less to investors today. This meant that those companies that are expected to generate most of their profit in the future (known as growth companies) fell significantly.
All of which meant there's been a sharp fall in investment markets, which has impacted member balances across most of the super industry.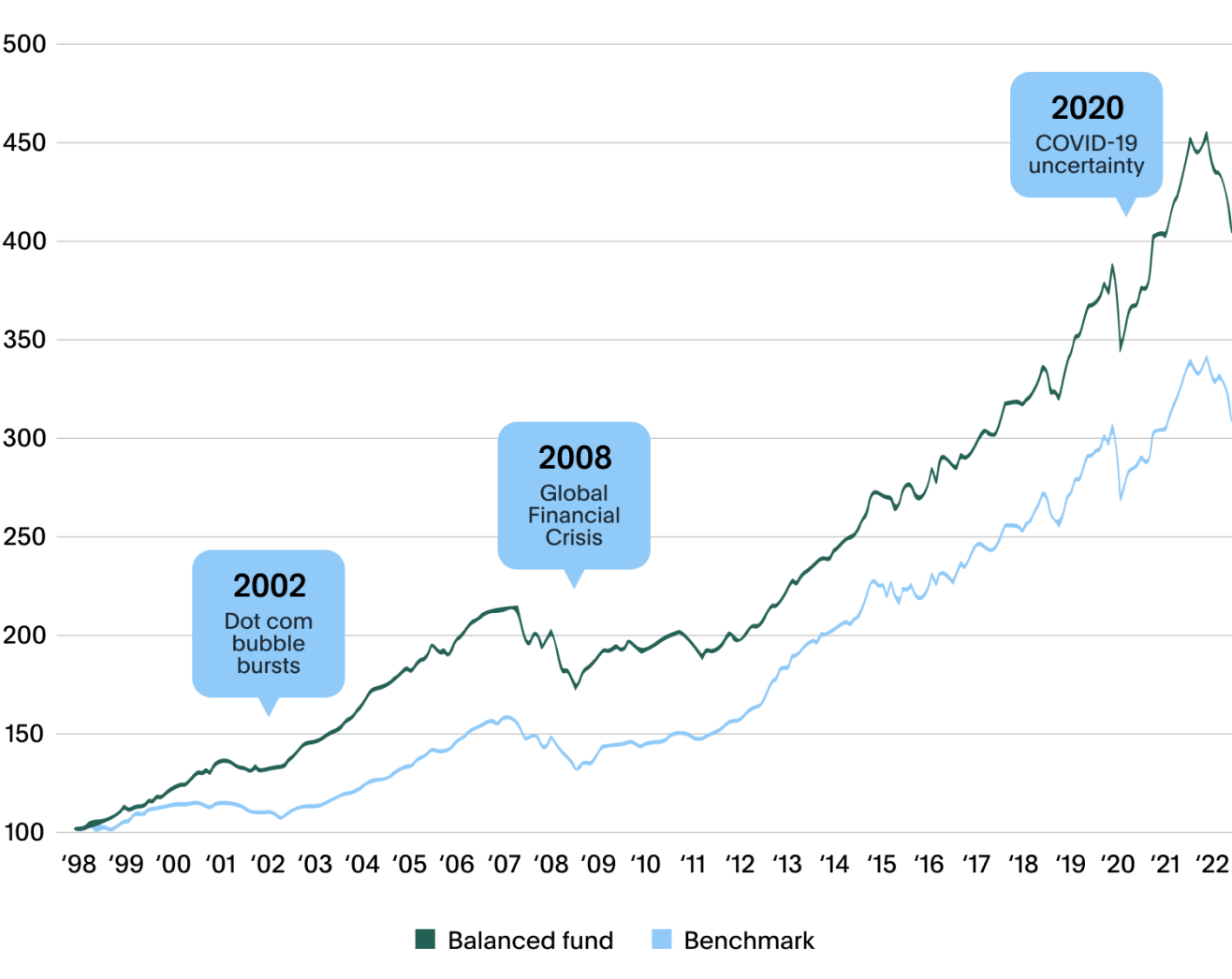 Benchmark: SAA Weighted Benchmark (Net) Balanced - Rebased



Why is your short-term performance down more than others?
Russia's invasion of Ukraine led to the sharpest energy price rise in nearly half a century. Energy prices were massively pushed up because of Russia's position as a major exporter of oil and gas. This in turn has meant that the energy sector has been this financial year's strongest performing sector. In keeping with our Ethical Charter, we have a zero exposure to this sector because of our position on fossil fuels.
Meanwhile, one of the worst performing sectors has been technology, where we have a relatively high exposure because of its positive contribution to a better future. But we remain positive on technology over the long term.
Technology stocks started underperforming at the start of the year, at the same time as energy stocks started to outperform. But while energy and technology have detracted from relative performance over the six months, they have positively contributed over longer time periods.
It's also important to remember that our Balanced option is a diversified portfolio. This means it invests in listed shares and in many different asset classes such as fixed interest, cash, infrastructure and property. Investing in these other asset classes, which are typically less volatile than listed shares, means that portfolio returns are cushioned from the significant volatility we're seeing in share markets.

What about your long-term performance?
We believe that the outlook for the long-term performance of our Balanced option remains strong, despite the short-term headwinds we've seen. This is because of our focus on future-building companies that will thrive in a low carbon future. Like IT, healthcare and education. Many of the best opportunities are found in the smaller cap segment of the market, known as small caps.
These earlier stage, small, growth-orientated companies have underperformed in the current rising interest rate environment, although we remain confident in their long-term growth prospects. We're proud of our track record of identifying companies that are addressing real problems, which have historically tended to bounce back even stronger.
We believe the structural drivers behind a low carbon future remain as strong as ever. Not just because of the supportive regulatory and policy environment, but also because of the growing demand from people who want to invest their money and their super in line with their values.

What are you doing about your short-term performance?
When markets are falling, it's easy to become reactive and drift from established principles and processes in response to short-term market conditions. But having a singular focus on ethical investing, guided by our Ethical Charter, provides a stable lens through which to view the world. This means even when short-term returns are down, our approach to constructing our investment portfolios and advocacy remain unchanged. It's how you can be sure your money is still invested for a better world for people, planet and animals.



The reality is that market ups and downs are a normal part of investing and something our investment team is prepared for. Our long-term investment strategy is designed to be resilient when markets are volatile while maintaining its ethical focus.

The reality is that market ups and downs are a normal part of investing and something our investment team is prepared for. Our long-term investment strategy is designed to be resilient when markets are volatile while maintaining its ethical focus.
But when markets fall, it's normal to feel uneasy. In fact, many people feel the pain of an investment loss more than they enjoy the success of a gain! And though it can be hard to see at the time, when markets fall it's often a time to find opportunities that may have been mispriced by the market in the short term and make investments where we see long-term value.

What should members do?
Investing successfully for retirement relies on a steady focus and not being distracted by the twists and turns inevitable on any long journey. This is easier said than done, but history shows it is the best way to avoid crystallising short-term losses.
In other words, try not to panic and move your money into less risky options with a view to switching back because you risk missing out when markets rebound. History shows that market downturns and recoveries are to be expected over the lifetime of superannuation investing.

What about if I'm close to retirement?
After a long period of positive returns, we understand that it's hard to see negative returns in your super, especially for members in or near retirement. But even many members close to retirement can afford to take a long-term view. That's because a lot of people most likely won't take out all their super when they retire and could still have their super invested for another 10-20 years at least. And with a substantial amount likely to stay in the super system in the retirement phase, often for many years, it provides plenty of time for losses to be recovered.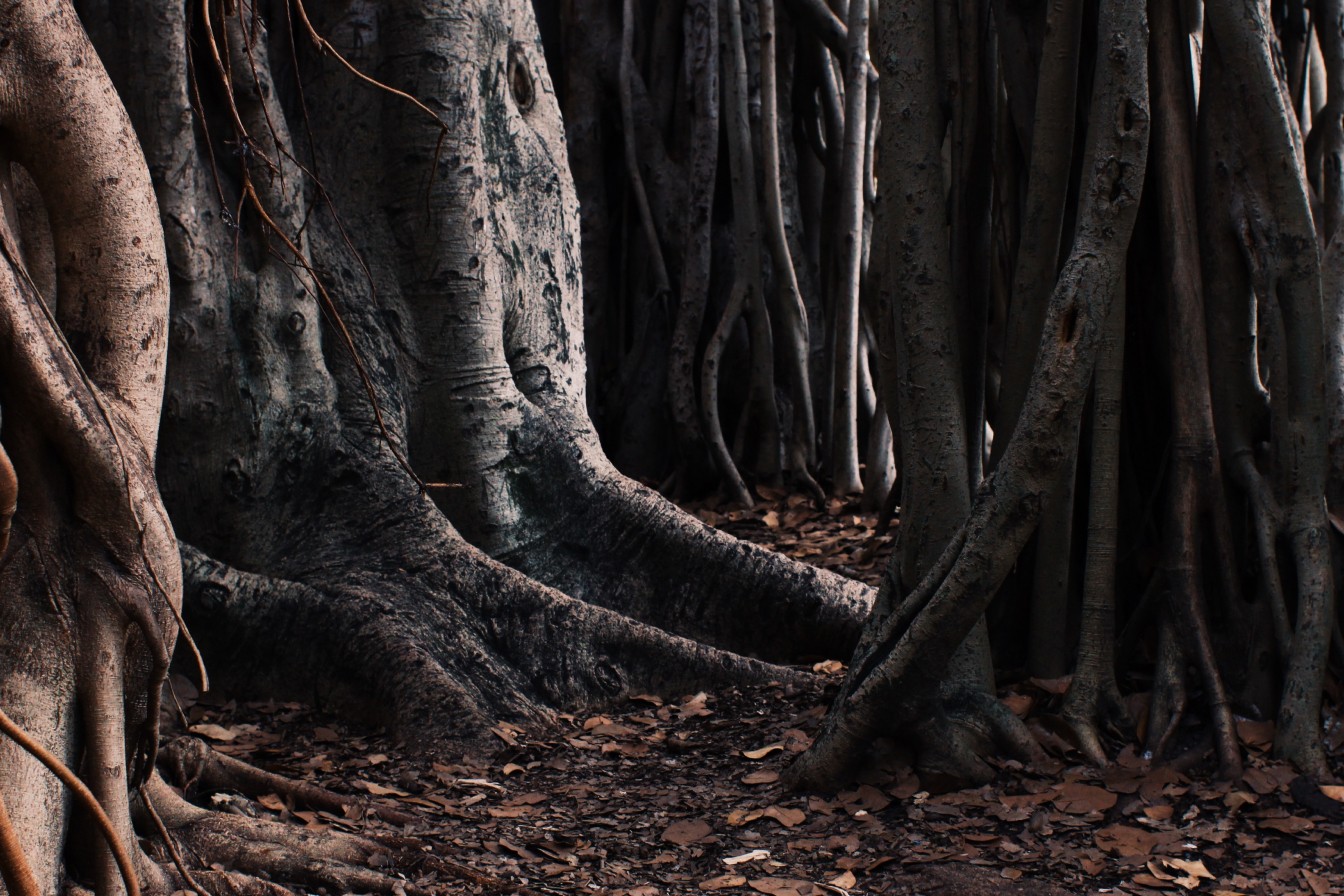 What's the outlook?
After more than a decade of strong growth, our outlook suggests the risk of lower economic growth is rising which may lead to lower returns than in previous years. As the economic cycle progresses and markets respond, our investment team will continue to adjust the portfolio to manage risk. And while times like these are difficult, we expect heightened volatility to lead to a renewed focus on solving urgent global problems, together with opportunities to invest wisely for the long-term.

Why should I trust you?
At Australian Ethical, we've been investing ethically – and only ethically – since 1986. We take comfort in our years of experience and long-term performance figures. Ours is an approach that has been tested and proven over multiple cycles.



We've been through difficult times before, and together, we've got through them, and this time will be no different.
---

Past performance is not a reliable indicator of future performance. Australian Ethical offers a diverse range of investment options depending on your investment objective, timeframe and risk profile. This information is of a general nature and is not intended to provide you with financial advice or take into account your personal objectives, financial situation or needs.
Before acting on the information, consider its appropriateness to your circumstances and read the Financial Services Guide and relevant product disclosure statement (PDS) and target market determination (TMD) available on our website. You may wish to seek financial advice from a licensed financial adviser before making an investment decision.
This article may contain material provided by third parties derived from sources believed to be accurate at its issue date. While such material is published with necessary permission, Australian Ethical accepts no responsibility for the accuracy or completeness of, nor does it endorse any such third party material. To the maximum extent permitted by law, we intend by this notice to exclude liability for this third party material.