How we invest in future-building companies and industries
Our portfolios look different to mainstream funds and benchmarks.  
Published 1 Nov 2023 | 6 min read
Low on energy and minerals, but overweight in healthcare, technology and utilities. These sector tilts in the portfolio arise from our Ethical Charter1.
Our in-house ethics and investment teams don't just think about environmental and social harms as investment risk factors, we use our ethical criteria to actively steer capital towards companies that are doing good, and away from those who aren't.
We're focused on future building industries, including emerging education technology, as well as accessing the aging thematic through investment in heathcare and therapeutics.
One of the sectors we don't own in the portfolio is energy, because energy companies don't pass through our ethical process.
We're also underweight materials, with the exception being with lithium where we own Pilbara Minerals, for example. Other material companies that pass our ethical charter and we invest in include Sims Metal and Orora.
We apply an investment lens to stocks that are actively held in the fund – we're looking for valuation upside and strong financials for the companies that we add into the portfolio.
For example, we are seeing resilient margins in companies with the ability to pass on costs increases to customers as cost pressures are rising, particularly wages costs.
Similarly, rising interest rates have been impacting the bottom line of businesses with high debt, so we are investing in companies with healthy balance sheets.
One of the sectors that performed well during the September quarter was the technology sector – in particular we are seeing the market reward companies pivoting from cash burn to cash flow break even.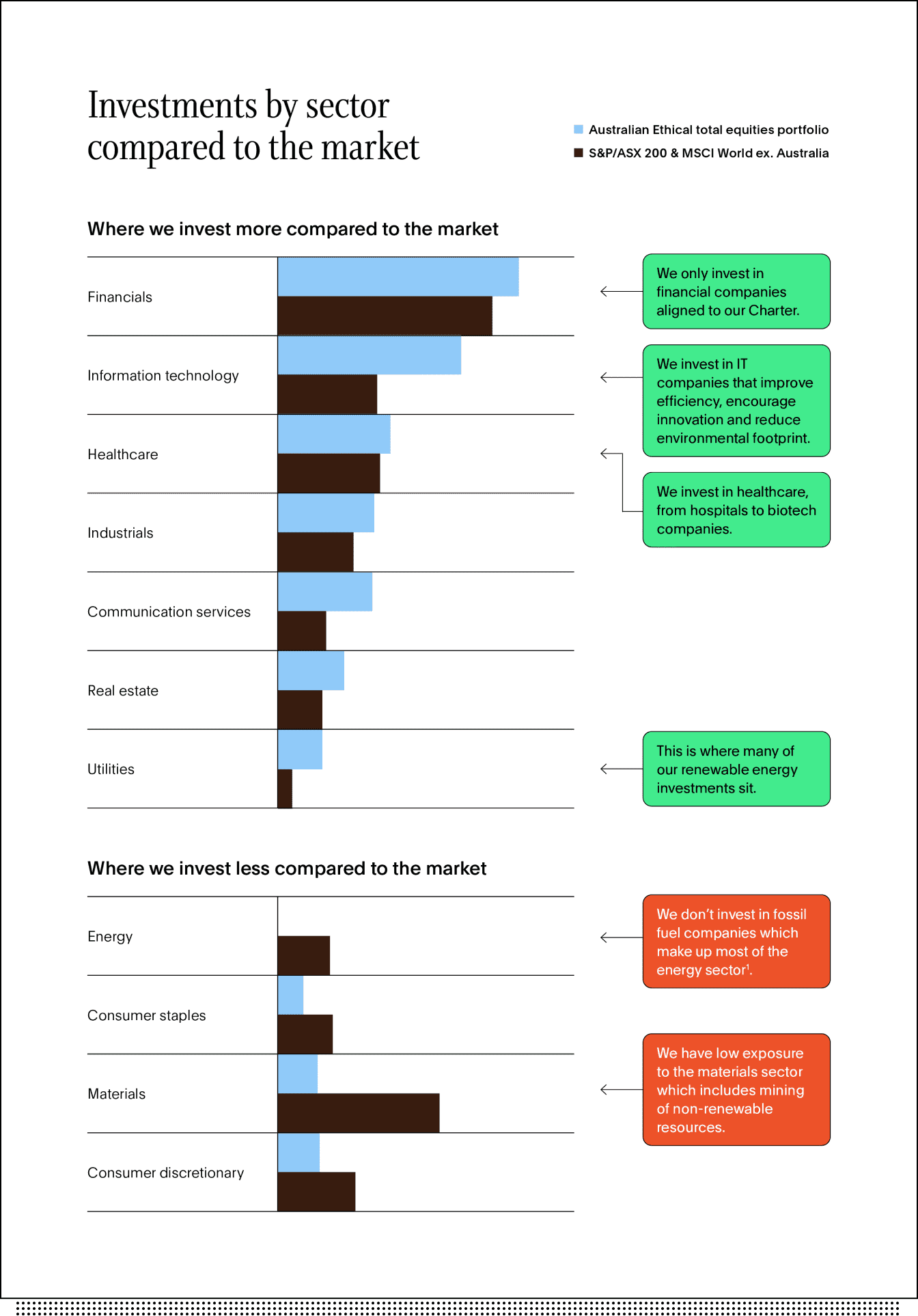 Our portfolios look different to mainstream. As at June 2023.


The sector tilts in our portfolios that arise from our ethical charter tend to point us towards more future-building companies, that usually have higher growth profiles in sustainable industries.
1. Our investment restrictions include some thresholds. Thresholds may be in the form of an amount of revenue that a business derives from a particular activity, but there are other tolerance thresholds we can use depending on the nature of the investment. We apply a range of qualitative and quantitative analysis to the way we apply thresholds. For example, we may make an investment where we assess that the positive aspects of the investment outweigh its negative aspects. For information on how we make these assessments for a range of investment sectors and issues such as fossil fuels, nuclear power, gambling, tobacco, human rights, and many others, please read our Ethical Criteria at australianethical.com.au/why-ae/ethics/ethical-criteria.
Investing ethically and sustainably means that the investment universe will generally be more limited than non-ethical, non-sustainable portfolios in similar asset classes. This means that the Portfolio may not have exposure to specific assets which over or underperform over the investment cycle, and so the returns and volatility of the Portfolio may be higher or lower than non-ethical, non-sustainable portfolios over all investment time frames.