MySuper is a Government superannuation initiative which aims to provide low cost, simple and comparable superannuation products which employers can choose to set as their default super fund when an employee doesn't choose one themselves.
This makes it easier to see how our MySuper option compares to other funds based on cost, investment performance and insurance.
Balanced investment option
Our MySuper product is the Balanced (accumulation) investment option. This means if you're a new or existing member and you haven't made an investment choice; your money will be invested in this option.
Even though our MySuper product has basic features and fee structures, it has a proven track record and is designed to provide strong long-term net benefit to members.
This dashboard can be used to compare Australian Ethical Super's MySuper product with other MySuper products. It is designed to provide a snapshot of key information about the Fund's MySuper product and has been prepared in accordance with prescribed standard calculations.
Our Product Disclosure Statement and Super Additional Information Booklet provide more detailed information about the benefits and risks of investing in Australian Ethical Super. You should read these documents and consider seeking professional financial advice before making a decision.
Overview
| | |
| --- | --- |
| Return1 | 10 year average return of 8.11% as at 30 June 2021. |
| Return target2 | Return target for 2021-2030 of 3.5% per year above inflation, after fees and taxes. |
| Level of investment risk3 | Medium to High Negative returns are expected in 3.5 out of every 20 years. |
| Statement of fees and other costs4 | $622 per year5 Fees and other costs for a representative member with a $50,000 balance. Further information on our fees and costs is available on our Super fees page. |
Comparison between return target and return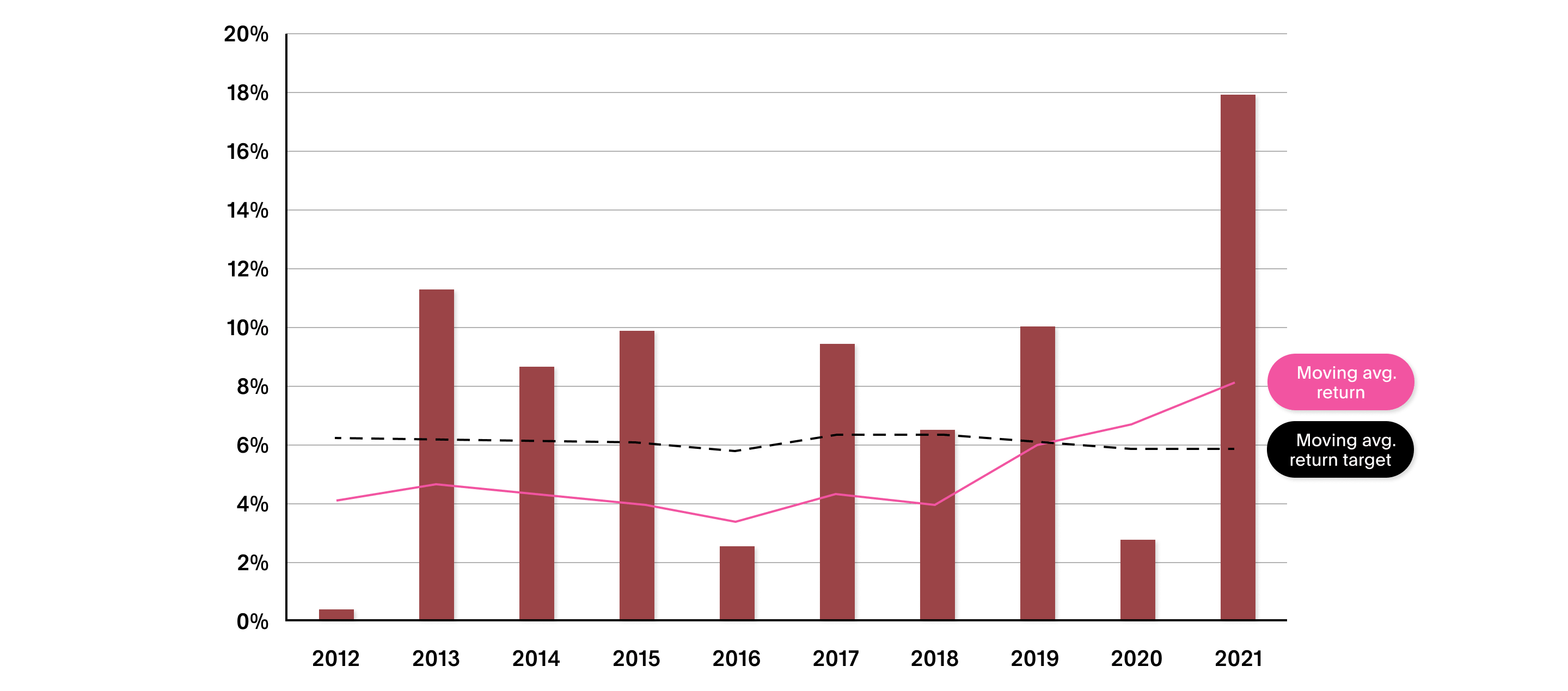 Important information
Returns and fees shown in the dashboard have been calculated using prescribed standard methods and assumptions. In particular, you should be aware that:
the standard calculations are based on a member with an account balance of $50,000, which will not be relevant to all members;

the standard calculations do not allow, for example, for the effect of investment earnings, contributions to your account, insurance fees or various other matters.
As a result:
(1) The returns shown in the dashboard will be different from the returns shown on our website and in your annual report.
(2) The returns and fees shown in the dashboard will be different from the amounts which apply to your account.
Want to change your
investment strategy?
You can – you're not locked into staying in this fund.
Check out all our investment options and make the switch through our member portal
when you're ready if you want to invest your super money differently.